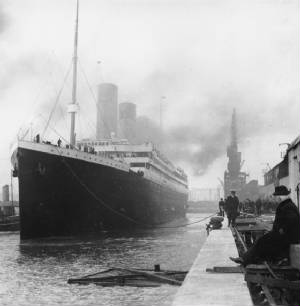 Interested in the RMS Titanic? A Titanic Historian, André has been studying the Titanic for over twenty years and has visited most of the sites connected with the tragic liner. André was fortunate to become friends with the youngest and last Titanic survivor, Millvina Dean. She inspired him to give talks, dedicated to the history of the world's most famous ship.

André's Titanic Talk focuses on the history and locations that are linked with the Titanic; from Harland & Wolff in Belfast where she was constructed to Southampton where passengers embarked for her maiden voyage, then to Cherbourg in France and Queenstown in Ireland, which was the Titanic's last port of call.
Above : The Titanic departs Southampton on the 10th April 1912
Below: Illustration of the Titanic of the White Star Line.


Right: André with late Titanic survivor Millvina Dean